It's more than just a furniture

Complete their childhood with a learning tower
Cooking brings families together

Some of the best memories are made in the kitchen
Built to last

We stand ahead in quality
It's more than just a furniture
Complete their childhood with a learning tower
Cooking brings families together
Some of the best memories are made in the kitchen
Built to last
We stand ahead in quality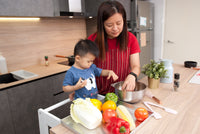 What is a Montessori learning tower?
Learning tower is essentially a stepping stool with a safe zone on top to keep young children safe while helping out on the kitchen table top. 
The objective is create natural opportunities for learning and independence in the kitchen and allow children to be involved in kitchen activities like cooking, baking and washing.

The kitchen offers many opportunities for learning. Children can work on their mental and emotional development by building confidence as they fill, scoop and pour on the countertop.